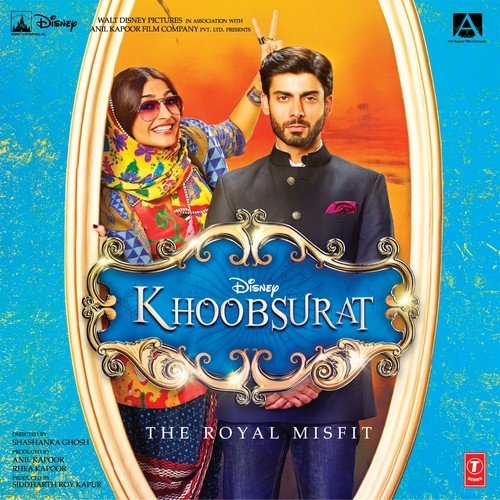 Comparing new Khoobsurat with the old one is unfair. Although, the basic concept is similar, they are totally different, and the main difference is that Rekha's Khoobsurat was a family drama and this one is a love story. One of the easiest love stories without any conflict.
Lively and spirited physiotherapist Dr. Mili Chakravarthy (Sonam kapoor) works with IPL, She comes to a palace
to treat Raja Shekhar Singh Rathore (Aamir Raza Hussain)
. Ranisa (Ratna Pathak Shah) is a strict disciplinarian. Mili notices that
no one laughs and speaks to each other in the palace, and
this palatial khoobsurti lacks the beauty of life.
Later, she comes to know about the actual reason of this silent sadness stretched in the palace and tries to change it.
Well, this film looks royal and beautiful but the script (Writing) is very weak and has some glitches. It lacks interesting and funny content. I think, while sketching the character of Mili, the writer forgot the big difference between "Being lively" and "Being uncultured".
The film deserves an equally strong male protagonist but it suffers from "I-am-the-producer-and-my-daughter/sister-won't-let-anyone-perform." syndrome. Sonam Kapoor looks nice but her effort is quite evident and her dialogue delivery seems fabricated.
Fawad Khan, who plays Prince Vikram Singh Rathore, is very good looking and stylish but he must gain some weight to get back to Humsafar look. He is a wonderful actor. His expressions are
natural and
endearing. His voice is attractive and his dialogue delivery is excellent! Though, his character is not as strong as it deserves to be, he has done a decent job.
In the final scene, Fawad Khan's or basically a royal Prince's sudden transformation into an outspoken Punjabi is very absurd (though he is brilliant in that scene).
So, overall, it was an average watch. I somehow liked it for fawad Khan and Ratna Pathak (She reminded me of Sarabhai v/s Sarabhai) and I think team Khoobsurat owes a big thank you to Fawad Khan and timely telecast of Zindagi Gulzar Hai and Behadd.