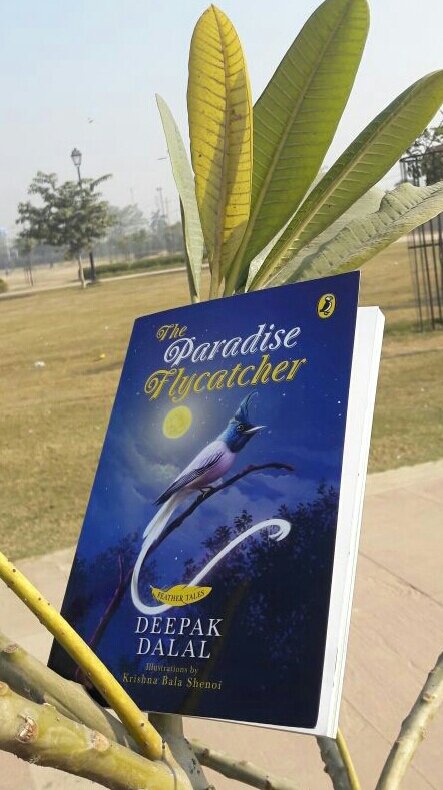 Author:
Deepak Dalal
Illustrator: Krishna Bala Shenoy
No. of Pages: 128
Age group: 8 to 13 Years
Publisher:
Penguin India
The Paradise Flycatcher by Deepak Dalal is, of course, a children's book. I am someone who used to read comics and children's book even in her college days. My best friend (and many others) used to laugh at me whenever she heard me talking about comic characters with little children.

It's been a very long time since I read a children's book! My first review copy in this genre is here.

It's a colourful book with lots of beautiful pictures --- apt for children.


It's a suspense/mystery; an adventurous story about finding a squirrel (of rare species), Shikhar, and rescuing him from a terrible human trap. Of course, the Paradise Flycatcher, the exotic, breathtakingly beautiful Bird, plays a key role.

There's a very kind girl, Mitalee who truly loves Shikhar (she calls him Snowdrop), and wants him back anyhow! There's a boy called Maitreya, a foe turned friend, who helps her in this journey. And, there are lots of lovely birds who act as scouts to solve the mystery!

The writing is neat and easy to understand. At the same time, children can learn new, interesting words. Also, the story is educational in many ways as it teaches a lot of things without being preachy.
What does The Paradise Flycatcher teach?
To be strong when difficulties hit you. Whimpering never helps. You must keep trying.
'This isn't the time for weakness. Your best friend, Shikhar, would never behave like this! If it were the other way round and you were missing, he would be scurrying everywhere and searching for you instead of crying. So, stop this moaning and help us.'
To be kind. And to accept your mistakes.
Maitreya: I made mistakes.
Mitalee: Choosing wrong friends for starters.
Maitreya: That I did.
Mitalee: And, injuring a squirrel.
Maitreya: Don't remind me. That was the most shameful deed of my life. Still haunts me.
Mitalee: It should. It was a terrible thing you did.
Greed Never Pays.
Also, there are some subtle lessons on names of rivers and different species of exotic birds!
Certainly an engaging and thrilling read for your children. Not just children, even parents can enjoy reading this. So, it's perfect for buddy-reading with your kid.
I felt that the end could have been a little softer for Chintu, the not-so-nice boy in the story. A sense of realization is very important. And, it could have been another lesson for kids and parents as well.
A delightful book!
I received the book from the publisher for an unbiased review.
Sharing with
Chatty Blogs